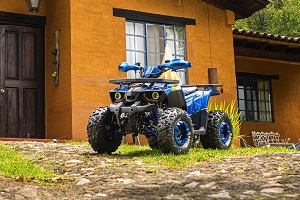 At All American Insurance Agency, we can provide insurance coverages for your Motorcycle Insurance, ATV Insurance, UTV Insurance, Jet Ski Insurance or Off-Road vehicle Insurance in Tulsa and throughout the state of Oklahoma and the state of Missouri. Some homeowners insurance policies may cover scenarios that take place on your property but in most cases residents need an additional ATV Insurance policy to give them the complete coverage required. (¡Se habla español!)
ATV Coverages in Tulsa, Oklahoma Include:
Comprehensive physical damage - pays for covered losses resulting from incidents other than collision - such as theft, fire or vandalism.
Collision coverage- pays for covered damage to your ATV when it hits, or is hit by, another vehicle or other object
Medical coverage- in most states you can select medical coverage for yourself and your passengers.
Bodily injury liability coverage- insures you against certain damages if you injure or kill someone while operating your ATV
Property Damage liability- insures you against certain damages caused to someone else's property while operating your ATV
Uninsured/Underinsured Motorist- insures you against certain damages in the event of an accident that occurs on a public road or highway where you are struck by someone with no insurance coverage or limits that are lower than yours.
We know that ATV insurance isn't as fun as a little mudslinging, but it's just as important as wearing a helmet! We can help you find the right coverage at the cheapest price for your special vehicle to protect your investment. Give us a call today!