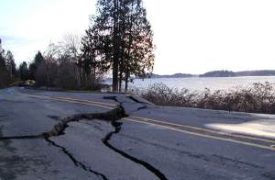 An earthquake could happen today in Tulsa, Oklahoma, so it makes sense to protect your way of life with earthquake insurance by choosing an earthquake insurance policy that fits your needs and budget. At All American Insurance Agency, we can find the right combination of coverage with affordable prices. (¡Se habla español!)
Owning a home in Oklahoma, it is important to protect your property or house from any claims that may occur from an earthquake. Most homeowners policies don't cover earthquake insurance, so it's important to be protected from what could be thousands of dollars in damage.
Coverages for earthquake insurance in Tulsa, Oklahoma
Personal property: If your possessions are damaged in the event of an earthquake
Home coverage: Covering damage to your home
Living expense: If your home is considered unlivable after a quake
And more...
Let one of our Oklahoma earthquake specialists shop our many earthquake insurance companies to find you the right policy - just fill out our short quote form or call us at 918-832-8823, and we'll contact you shortly.